Dawn theme: how to make the image banner clickable
Are you trying to make your Dawn theme's banner section image clickable? Look no further! Although the Dawn's banner section comes with buttons that you can add links to, there is no way to make the image itself clickable. Well, up until now!

With this guide I'll teach you how you can make your banner clickable just by pasting some code into your theme.
Making a backup of your current theme
Before diving into the tutorial make sure you download the theme, so in case you face any issues you can easily revert back.


Adding the code to your theme
From your Shopify Admin go to: online store > themes > actions > edit code
Find the file named exactly "image-banner.liquid"

Delete everything in there and paste this code:



Now click on the "save" button on the top right.
Adding a link to your image banner
From the "Customize" page, click on the "Image Banner" section.

You'll see a new option at the top named "Link":

Simply add the link you want and you're all set!
You can also choose to open it in a new tab if you wish. Keep in mind that, if you have added any buttons, this new link will overwrite their URLs.
You may also like
Here are some other tutorials you may be interested in:
– Arrows & vertical thumbnails for Dawn's product pages

– Dawn lightbox: responsive images, slider and arrows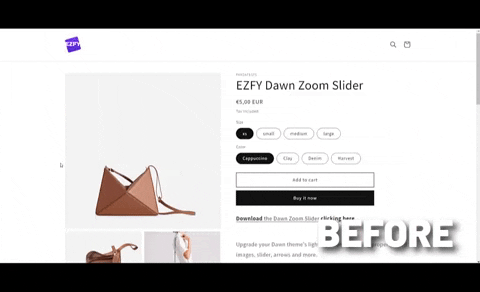 – Improve your website's safety: block right click, image copying and more